Leap, Inc is seeking financing to restore, operate and maintain the world's oldest roller coaster, The Leap-The-Dips, built in 1902. The entire amount required to restore and operate the Leap-The-Dips is $1 million. Although this money has been secured through previous fund-raising campaigns, grants and loans, there is still a need to raise funds because the $550,000 loan must be repaid.
This loan will be repaid and operating income will be generated in the following ways: Ridership, Fund-Raising, and Merchandise Sales.
RIDERSHIP
Our goal is to generate enough income to repay the loan and continue to maintain and operate the roller coaster. Rider fees are based on an estimated ticket price of $2.50 per ride. Management projects that the ride will be in operation during the park season. The typical season begins in early May(weekends only), runs daily through the summer season(Memorial Day through Labor Day), and concludes with a late weekend season in September and October.
The project ridership is estimated at 60% during the 1999 season and decreases to 55% in the year 2000.
FUND-RAISING
Fund-raising efforts will be continued throughout the restoration process and well into the future until the debt associated with restoration is repaid.
MERCHANDISE SALES
Merchandise Sales will likely increase when the ride is open. Currently efforts are underway to select and order merchandise that will be available for purchase as souvenirs for those who would like a memento of the oldest standing roller coaster in the world. See the Leap the Dips Promotions page for items that are available for purchase now.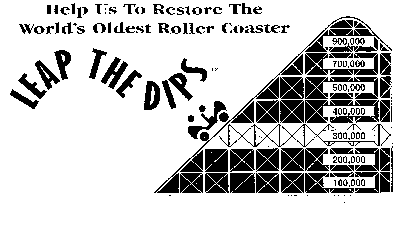 ---
Contributions | Fund-Raising Efforts | How to Donate | Return to Fund-Raising | Return to Main